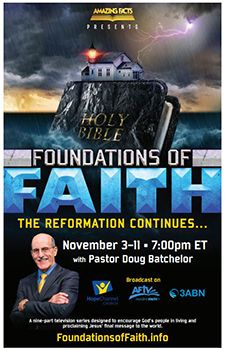 Foundations of Faith
A Nine-Part Revival and Reformation Series designed to encourage God's people in living
and proclaiming Jesus' final message to the world.



November 3–11, 2017 7:00 PM


Broadcasting live from Silver Spring, Maryland

We are hosting this event and you can watch this live at our church. You won't want to miss this series!






Welcome to the Shelbyville Seventh-Day Adventist Website!

Adult & children's Sabbath school 9:30 - 10:45
Worship 11:00 am Everyone is welcome!     
Join us for a free Thanksgiving Dinner on Sunday, November 19th. Eat in or carry out will be available.



Receive a scripture everyday on your phone. Text the word SCRIPTURE to 5863222473.
Regular texting rates may apply. 

***If you would like to be entered into our weekly drawing for a free book, submit the form on the left. Winners will be announced on our website everyweek. There is absolutely no obligation.***


or click on this link: http://www.biblestudyoffer.com/
enter special code: IN-023


Colossians 3:15-17
 And let the peace of God rule in your hearts, to the which also ye are called in one body; and be ye thankful.
 Let the word of Christ dwell in you richly in all wisdom; teaching and admonishing one another in psalms and hymns and spiritual songs, singing with grace in your hearts to the Lord.
 And whatsoever ye do in word or deed, do all in the name of the Lord Jesus, giving thanks to God and the Father by him.
 (KJV)

texto español

Colosenses 3:15-17
 Que gobierne en sus corazones la paz de Cristo, a la cual fueron llamados en un solo cuerpo. Y sean agradecidos.  Que habite en ustedes la palabra de Cristo con toda su riqueza: instrúyanse y aconséjense unos a otros con toda sabiduría; canten salmos, himnos y canciones espirituales a Dios, con gratitud de corazón.  Y todo lo que hagan, de palabra o de obra, háganlo en el nombre del Señor Jesús, dando gracias a Dios el Padre por medio de él.
(NVI)
 Click on the link on the right to listen to this past Sabbath message or if you would prefer to watch the Sabbath message click on YOUTUBE

To see previous sermons click below:

5/21/2016 Shelbyville SDA Pastor Troxell- How to Keep Your Family Together
http://bambuser.com/v/6272307

5/28/2016 Pastor Peterson-The judgement of the Great White Throne
http://bambuser.com/v/6285990


DOWNLOAD FREE OF CHARGE - THE DESIRE OF AGES AUDIO BOOK IN LIVING SOUND WITH MUSIC SCORE AND SOUND EFFECTS!
Click the link on the left
You can also read or listen to all of EG White's writtings. Click on EG White Writtings on the left
   
*** If you enjoy what you hear on our radio station would you consider a generous donation to help keep God's message on the radio? All gifts are tax deductible and will help keep our message on the air. Gifts can be sent to: WSHI radio PO Box 237 Fairland, IN 46126. Thank you and God Bless! 
Are you interested in studying God's word and what the bible really says about how we should live? Are you interested in end time events and what it all means? Do you really know God's true character? If you would like to do a no cost, no obligation Bible study through the mail, click the link on the left to submit a bible study request form. You will receive 2 free study guides to complete at your leisure with additional study guides when you send in the answer sheets in the pre-paid return envelope. Spanish lessons are also available.